First of all, I have quite hmm yellowish teeth since young and i have no idea why??
And to me, teeth are the most important feature of a person.
Straight, clean(cleanness! SUPER important even if it's not white) and neat.
I wasn't the lucky one so i had braces on (although still not straight) but it's neat and I'm happier than ever! My previous teeth were really horrible... And of course my teeth are clean! I do visit dentist from time to time to clean and polish my teeth plus i brush my teeth 2-3 times a day! So, cleanness NO PROBLEM!
But the thing is, i want to have white teeth.. Like shiny bright teeth like denture.
I already miss my teeth as straight as a denture so i really want white teeth!
I definitely will try bleaching my teeth someday when i am able to afford. But for now, i'll just try those whitening toothpaste and white strips.
If you have been watching YouTube video, you won't be surprise with this brand.
Almost every gurus are using Crest whitening strips/ toothpaste etc. And when J was doing research for his project on toothpaste, Crest is rank no 1 in America!
So, i decided to give it a trial and bought the trial version.
I got mine in Qoo10 for 7 sachet, and if you like and share their FB you will get additional 1 for free!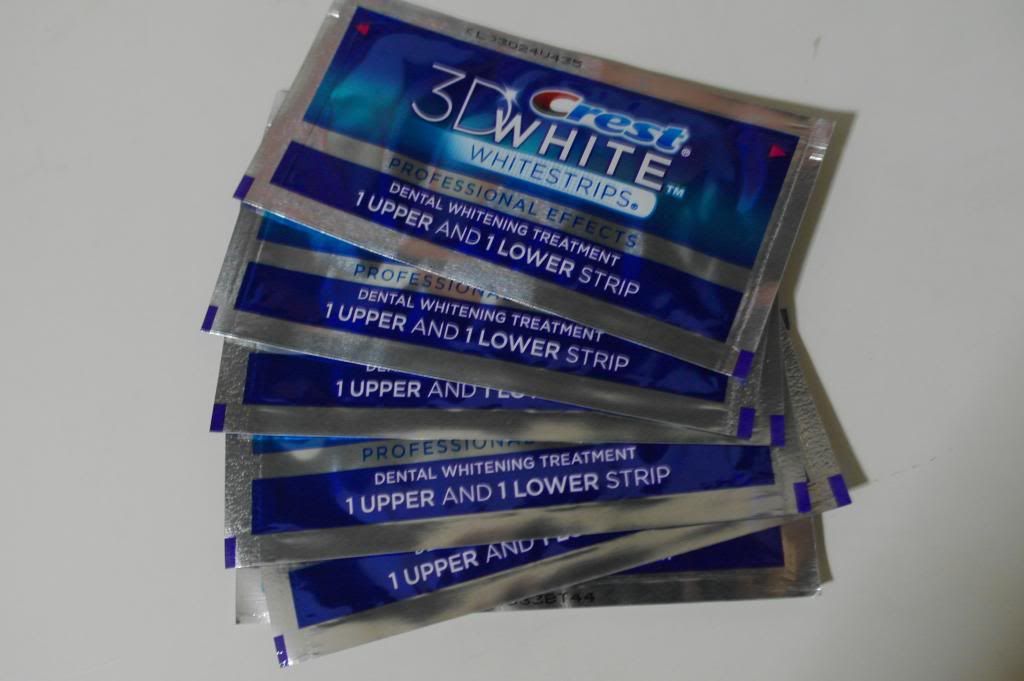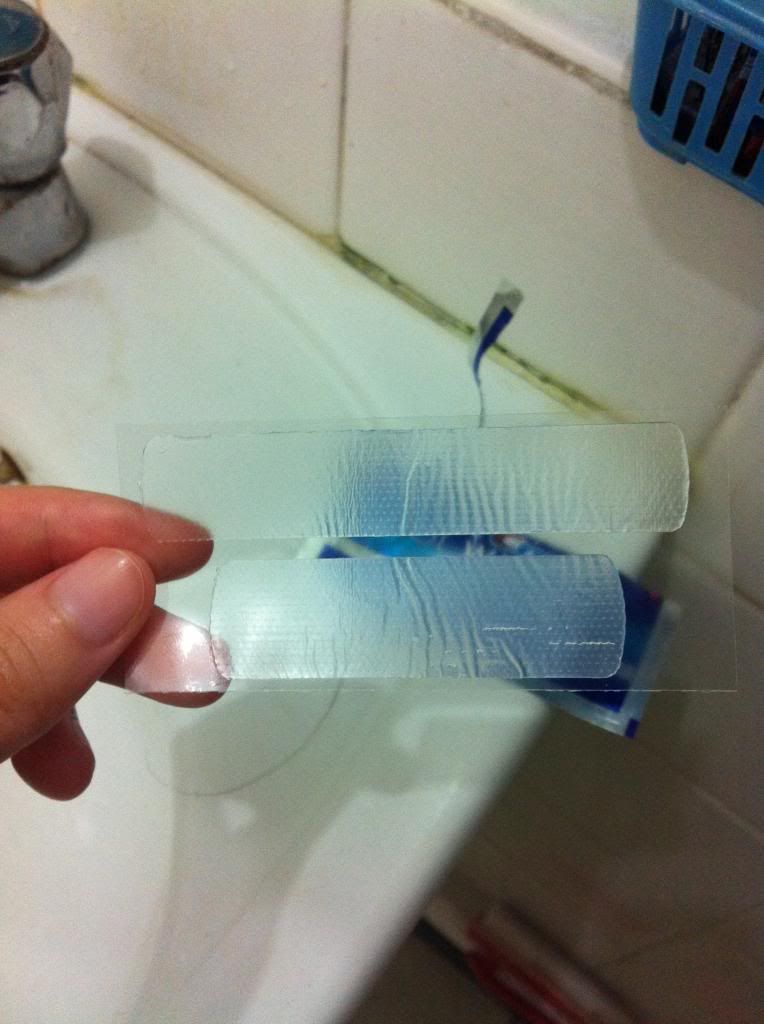 This is how the strips look like.
The shorter strip is for your bottom row of teeth while the longer strip is for the upper row of teeth.
To make sure it grip and work well, do dry your teeth with tissue before applying!
It will be much more effective!
The next thing to take note is these strips contain bleach,
DO NOT
leave these strips longer than the given time 30 minutes.
It will damage your enamels and cause your teeth discomfort and sensitivity.
As a normal box of these whitening strips contain 20 satchels.
It's suppose to use for 20 days straight. And it's really pricy even in America!
That's why I'm glad I can test out and see whether my teeth are able to handle the sensitivity and how it will react to it.
So, the moment i got my package, I start trying out the whitening strips.
For the 1st 3 days i have no problems, but after that my teeth began to be very sensitive.
Since then, i stop for a couple of days before i continue.
Today, I used up the last satchels and i can tell you it's really working!
Although mine is not completely white;
afterall i only used 8 satchels instead of 20,
but you can really see my teeth are much more brighter and look even cleaner now!
However, you can only use this whitening kit every 6 months. I will definitely purchase the box of 20 satchels!
I decided not to post my teeth pictures because it look quite gross as compare to seeing in my phone :x
toocloseup
Beside using the strips, I am currently using this toothpaste to keep my teeth
as white as possible too! Somehow it's working, I'm gonna stock up some whitening toothpaste!
Since using back regular toothpaste may not be effective in keep my teeth white...
Shall see how it's goes again.
I think the main reason for my yellowish teeth is due to drinking of tea.
I love tea and I do drink coffee from time to time..
In order to maintain the white/birght teeth, i need to rinse/drink plain water to wash off the residues after each consumption.
(Hard work :[ )
However, in conclusion i think that Crest whitestrips is really worth all the hypes and the price!
Because it is something safe and really work!
(Still, depend on individual)
To try out, you can try purchasing from Qoo10 and this seller is really responsible!
Really like his attitude to make sure the customers get the items!
Click the above title to go the Qoo10 store!
Remember to like and share their FB page to receive an additional free satchel!
BrightenSmiles@FB
That's all!!
I hope you guys enjoy this wordy, lengthy post!
(: