A few days ago, we decided to take a break from studying and went for a short date!
Finally after so many days, we get to spend a short decent time for dating before back to mugging.
Went to our favourite dinning place for a heavy lunch.
Shokudo at Cineleisure!!
It's quite affordable and the portion is really HUGE!
We went there around 2 plus and the place was pretty empty, thus foods was serve to us very quickly.
Can't wait to go back and have their waffles! Our favourite!
When this came, I was SHOCKED!
The portion is really huge! The fish is really tasty!
Even J agreed that the bun itself is already very nice and soft.
Plus there's really a huge portion of fries~ With some seaweed. LOVE IT!
J's curry omu rice..
Taste really nice too! The patty that they give is really worth the money.
Damn thick!
And he seems to love it alot. So i guess it's really tasty too!
I know the show has been out for quite some time but we really got no time :(
And J was super enthu about this movie, so we manage to catch it before they stop showing!
Freaking awesome movie!!!!
Got my favourite WWF/WWE The Rock!!
and! I didn't know Lee byung hun's English was good!
I know he can speak English but didn't know it was that good!
No kor-lish at all!
Anw, the movie is really nice. I can't remember did i watch part 1 on channel 5 but
apparently from J, he still think that part 1 is nicer because there are more actions.
Guys... haha!
I think it's a nice show! But a little too short?
Overall still worth watching!
I wonder will there be a part 3.
Some OOTD shot
I'm really too lazy to dress up and just wear the over-sized tee with jegging.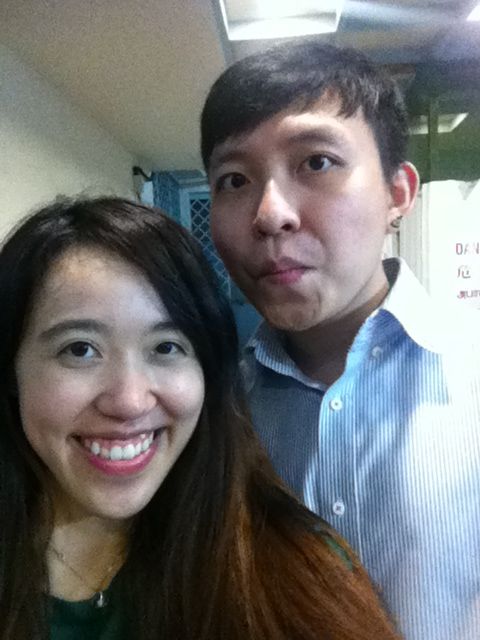 Time to cut my long fringe and dyed my hair after exams!!!!
Shokudo, Japanese Coffee House
Cathay Cineleisure
Orchard 8 Grange Road,
#02-06A/B
Tel: +65-6736 0971